What Is A Separation Agreement?
A Separation Agreement is a legal agreement made between individuals who are contemplating imminent separation or have already separated. A Separation Agreement can be entered into either by a couple who are married or in a civil partnership or by cohabiting couples.
In the case of married couples, the Agreement usually sets out the agreed financial arrangements during the period of separation and it will record how the couple's finances should be divided in the event of a subsequent divorce or dissolution.
Separation Agreements should not be confused with Post-Nuptial Agreements. A Post-Nuptial Agreement is an agreement made between two married individuals, who intend to stay married, and sets out how they wish their assets to be divided between them if they later separate or divorce. The difference is that a Separation Agreement contemplates imminent separation, whereas the parties to a Post-Nuptial Agreement do not usually wish or expect to separate in the near future.
A Separation Agreement does not end a marriage. If a couple wish to divorce, one of the parties will need to start divorce proceedings.
A Separation Agreement is usually only appropriate where parties have already separated, or are going to separate in the near future, but do not want to start divorce proceedings immediately.
It is important to understand that parties cannot exclude the court's jurisdiction under the Matrimonial Causes Act 1973 by private agreement and therefore it is always open to the other party to attempt to unravel a Separation Agreement by applying for a divorce and financial remedies at a future date.
For these reasons, when parties acknowledge that the marriage has irretrievably broken down and that there is no prospect of a reconciliation then we would usually advise clients to consider issuing a divorce petition and then to obtain a financial remedy court order so as to ensure that the other party cannot attempt to unravel any agreement reached. The court will always retain the absolute discretion to make whatever order it considers just in all of the circumstances of the case.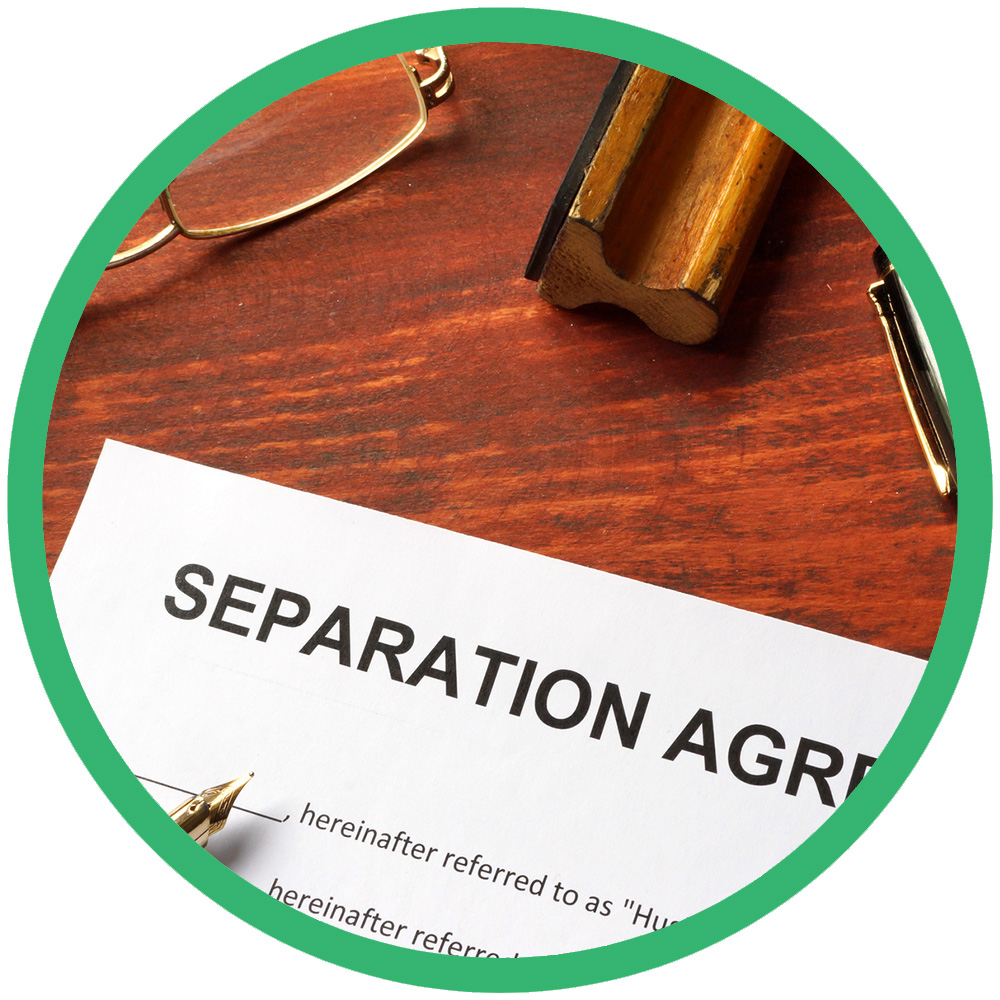 When Is A Separation Agreement Appropriate?
Couples may wish to enter into a Separation Agreement to regulate their financial arrangements as a first step towards divorce proceedings. This may be because:
The parties have been married for less than one year and so cannot yet issue divorce proceedings because of the one-year rule.
The parties want to wait the requisite period of time so that the divorce can proceed on the fact of two years' separation with consent, or five years' separation, rather than on adultery or unreasonable behaviour.
In some cases, couples may wish to separate, but do not wish to divorce for religious, cultural or personal reasons.
In other cases, parties may wish to enter into a Separation Agreement as they embark on a trial separation.
Some cohabiting couples who do not have the option of a divorce may wish to formalise the financial arrangements they have agreed regarding the division of their assets.
Are Separation Agreements Binding?
As noted above, a Separation Agreement cannot exclude the court's jurisdiction in financial remedy proceedings on divorce. Either party can apply to the court for financial orders and request the court to ignore or modify some, or all, of the terms of the Separation Agreement. The only way to prevent a party from trying to unravel a Separation Agreement is to convert the Agreement into a court order within the context of divorce or dissolution proceedings.
However, notwithstanding the above, whilst a court is not bound by the terms of a Separation Agreement, in practice its terms will usually be upheld if these have been carefully negotiated (usually with the benefit of independent legal advice) and concluded immediately before or shortly after separation.
The following factors should be taken into account when deciding what weight should be afforded to a Separation Agreement:
The conduct of both parties leading up to the Agreement, and their subsequent conduct in the light of it.
All the circumstances of the case, including:
Undue pressure by one side.
Exploitation of a dominant position to secure an unreasonable advantage.
Inadequate knowledge.
A lack of adequate financial disclosure.
An important change of circumstances, unforeseen or overlooked at the time of entering the Agreement.
So… in summary, parties to a Separation Agreement should expect to be held to the terms of a Separation Agreement negotiated with competent legal advice, unless a vitiating factor was present at the time the parties entered into the Agreement. Unless the court considers there are compelling grounds for it being "unjust" to hold the parties to their Agreement, the parties' autonomy in entering the Agreement will usually be respected and so deviating from the terms of a Separation Agreement will be the exception rather than the norm.
As always, we would recommend that you speak with us before committing to entering into a Separation Agreement with your former partner or spouse so that we can offer tailored legal advice to meet your circumstances.
What Does A Separation Agreement Cost?
On the assumption that you have reached an agreement with your former partner or spouse regarding the terms of the agreement then our costs are fixed at £649.00 including VAT. This price includes:
Initial legal advice by video conference consultation or detailed telephone call.
Legal advice on the implications of entering into a Separation Agreement.
Informing you of the financial information needed and drafting a schedule setting out your respective financial positions.
Drafting the Separation Agreement to reflect the agreement you have reached with your partner or spouse.
Please note that if your combined assets including pensions at the time the Separation Agreement is prepared are greater than £750,000.00 then further charges may apply.
If you have not yet reached agreement with your partner or spouse and you require advice, assistance and representation in negotiating the terms of a Separation Agreement then we will undertake that work at an hourly rate charge of £180.00 including VAT.
For initial legal advice about Separation Agreements please schedule a free 30-minute consultation at a date and time convenient to you by using our online booking calendar.